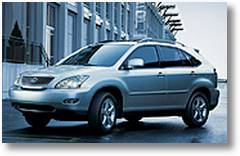 The 2008 Lexus RX 350 lacks in a few areas in which its rivals excel, like driving dynamics, but that doesn't mean that this excellent sports utility vehicle should be overlooked by buyers for the next model season. There is more to this compact vehicle, such as its sheer amount of luxury and class, as well as the comfort of the ride, the fit and finish, which is worlds better than anything in its class, and the ability to be used with regularity for regular purposes with no problems.
What's so great about the 2008 Lexus LX 350?
interior material of top rate
drives like a luxury sedan
lots of technology that's easy to understand
extremely reliable
great customer service
As for its setbacks:
soft suspension
mediocre handling
lots and lots of money
options cost even more
no third row seat, either as option or standard
Cheers,
Fashun Guadarrama.
About the Author: Austin-1