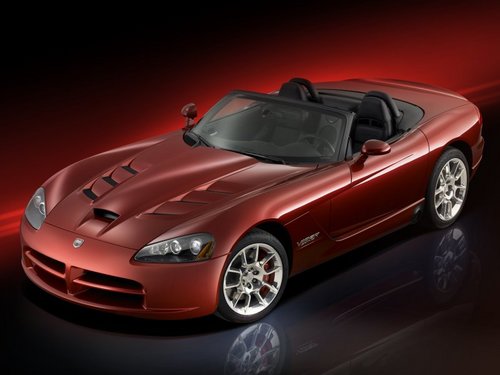 The Dodge Viper is a very iconic car, and it fits its name well, with its front end rising up like the head of a poisonous snake. It has an air of attitude that is sure of itself completely, something not too easy to find for under a hundred thousand. It is a super luxury car for an almost luxury price, and in the 2006 model year it has made some changes that roll away previous problems that it has had in the past. Whatever changes, though, the Viper does not and hopefully will never compromise its dynamic driving personality.
The way the Dodge Viper accelerates is superb, enough to rip your neck off if you're into that kind of thing. Its brakes are made as though for a race car, making it easier to stop safely when going at higher speeds, a great aid when you're on the highway or misbehaving. It has track-ready suspension, a great accomplishment. Its ergonomics are okay, competent at least, and just owning one feels great because, being produced in low numbers, not many people can.
Still, for a car that encourages you to go so fast, you would think it should have a few more safety features. But the Dodge Viper lacks such basic things as side air bags and traction control, which come standard on most cars that could never imagine meeting the speeds that the Viper does. It's a very over the top sort of car, which is an attraction to some, but makes it kind of useless for everyday use, making it the kind of car you have to keep in the garage and only take out now and then. That's no fun. To get everything out of it that it has to offer, you need to be an expert on driving.
New in 2006 are a Blue Mamba version which offers black leather interior.
Cheers,
Fashun Guadarrama.
About the Author: Austin-1