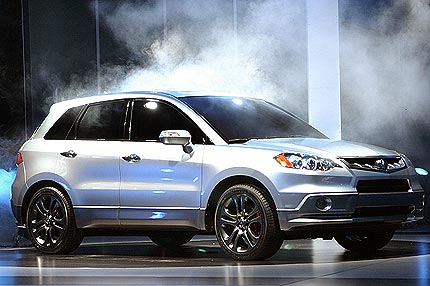 Are you looking for an SUV that's not to big and has its own spark of interest to get things going? The 2007 Acura RDX is just such a vehicle, a nice little sports utility vehicle cornering on the edge of being a luxury car, but not quite, and having great prices to go along with is good performance. Still, if your trying for the extra enhanced type of ports utility vehicle, you might want to look for the rivals in the market of smaller SUVs, maybe the ones in the lower prices, because the Acura RDX does not have what you are looking for.
The Acura RDX improves on its performance with a fantastic turbocharged engine with extra strength that adds to its power. For a little bit of control, this SUV handles well and the driving experience is a pleasant one. It's the kind of vehicle that is useful from day to day, just for going back and forth. Practically every feature available for it comes with it standard without any extra charges. On the downside, what the SUV has in power it lacks in versatility. For an automobile named 'sports utility', it doesn't have a lot of space out back for holding things, and if you want to tow something it better be something small.
Acura has been broadening its SUV market for the past twenty years, and sometimes it does well, and other times it fails. Looking at its overall output, though, it has done pretty good in this category compared to other car manufacturers. Manufacturers have now run through their options and bored with the market of larger and middle sized sports utility vehicles, and so they are now looking at and releasing more smaller versions of these vehicles, and the Acura RDX is one of the top of its class.
It comes with:
18 inch alloy wheels
xenon headlights
moonroof
heated mirrors and front seats
leather upholstery
seven speaker sound system
six CD changer
MP3 connectability
The options that are offered include a navigation system and Bluetooth technology.
Cheers,
Fashun Guadarrama.
About the Author: Austin-1