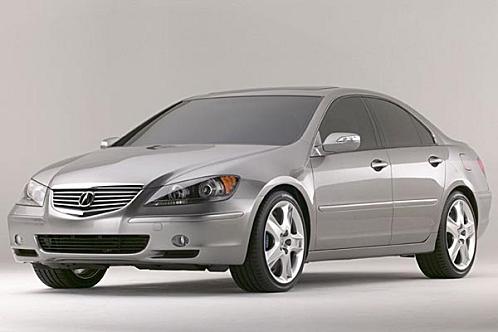 The 2007 Acura RL kind of sits in a corner compared to other cars in its class. Its lacking a lot in the section of being pretty and fast (although I think it looks nice), but it makes up for that in sheer smarts and its ability to drive around without compromising. It is sure in its ability to perform and handles itself well on the road, whether you do or not. Maybe it is hiding in a dark corner where people might overlook it, but this sturdy vehicle has a lot to offer and can take on conditions that would make other cars breakdown and cry.
The Acura RL starts out with fantastic all weather capability, with competent handling that makes it a special choice to drive on more dangerous roads. It has a lot of standard features, so even if you don't go for the options, you'll be pretty well taken care of. It also has a new stereo sound system that is a great improvement on the last, and its interior design is simple and well done. It takes a dozen of the latest technologies and fits the together with ease and simplicity. The steering isn't as responsive as it could be, and its V6 engine looks a little weak compared to its rivals, though.
This is the Acura RL's third year on the line, and it has been changed in a couple of ways. Sad to say, there's no more standard navigation system. Rather, it has been made an option, so can only be got if you're willing to pay extra. It comes with the newly added Technology package, which also includes run-flat tires and a collision mitigating braking system.
The base trim level comes with
17 inch wheels
power front seats
heated front seats
leather seats
power everything
audio controls on the steering wheel
satellite radio
Bose sound system
Cheers,
Fashun Guadarrama.
About the Author: Austin-1