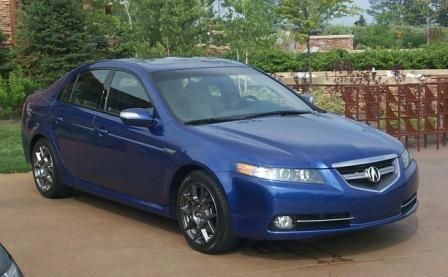 The 2007 Acura TL stands out in the amount of features and equipment that it comes with standard. Not many base level cars in the luxury class come with such an impressive list, and Acura isn't too ashamed to brag about it. Like many Acura cars, the 2007 is built to last and to be reliable, and its not so bad to wake up and look out the window at it every morning–its a great vehicular companion, as they go. Considering all of its great qualities, the Acura TL is a good option for someone who just needs a car that they can use.
On the inside, the Acura TL has got some space going for it, and the interior equipment is organized well so that things are easy to reach, find, and operate. Its handling isn't perfect, but is a pretty good achievement for big sedan with front wheel drive. The sound system is pounding and doesn't have man rivals. The V6 engines has some power, though not to much, and it couples up with a great transmission. With car crash test results that outdo many other vehicles, its not much of a worry that this vehicles front wheel drive limits its handling in more volatile situations, and that the low end torque just isn't there.
The Type S trim level that Acura got rid of three years ago comes back with a vengeance, with a 3.5 liter engine that packs 286 horsepower and the 32 valve VTEC V6 engine that Acura is known for. It's also got
sports tuned suspension
front and rear disc brakes from Brembo
pretty front fascia
quad tailpipes
The safety list is long, with the Acura TL topping the list of frontal offset crash tests as the 'best pick' in the Insurance Institute for Highway Safety crash tests. It was also rated good in other categories, which is the best crash test result that you can get. It comes with the standard set of airbags, as well as side curtain airbags. It also offers an electronic stability control system and antilock and electronic brake force distribution systems.
Cheers,
Fashun Guadarrama.
About the Author: Austin-1