Summary
2007 Acura TL ranks among the best-selling models of Acura. The design, performance, chassis, and styling of 2007 Acura TL is excellent and attractive.
Price
MSRP: US$33,625-US$38,325
Invoice: US$30,677-US$34,956
What is New in 2007 Acura TL?
2007 Acura TL has additional improvements with alloy wheels and each having five split spokes. These are seventeen to eighteen inches in diameter.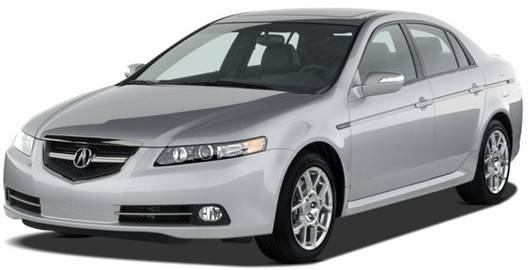 Picture: 2007 Acura TL (front view)

Picture: 2007 Acura TL (side view)
Introduction
2007 Acura TL has a 3.5-liter V-6 engine. This car offers higher acceleration with controlled traction. Super Handling All-Wheel Drive offers reduced torque steer.
Body Styles, Trim Levels, and Options
2007 Acura TL has a low rear seat causing compromise in forward movements and thigh comfort. Lateral support is good.
Powertrains and Performance
2007 Acura TL is an excellent performer without any high maintenance costs. It offers all the luxuries of a Sport vehicle.
Interior Design and Special Features
2007 Acura RSX offers plush interiors with the most modern amenities. Well-placed controls with touch screen navigation system are major draws.
Safety Features
2007 Acura TL offers side-impact torso bags for front occupants with side curtains for rear occupants. This causes less impact in case of a crash.
Driving Impressions
Larger stabilizer bar in 2007 Acura TL offers better riding comfort. Shock absorbers and firmer springs improve road performance.
Pros
Superb handling, style, and power
Cons
Has a turning circle of 39.7 feet, which proves clumsy
About the Author: Austin-1