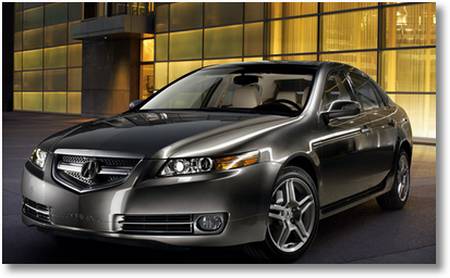 As time passes, luxury cars have become less about the luxury and more about the performance. Sure, they're still luxurious, but they aren't as quiet anymore. They don't just pamper, they drive, and they're expected to do so like a sports car. The 2007 Acura TL exemplifies this attitude loading up with a sensitive chassis, a V6 engine, and lots of unique styling. Fit with the latest technology for comfort, entertainment, and safety, the TL rolls out on top of the line and is too impatient to stay there. It is lighter and faster than other Sedans, and stands out from the rest.
The TL comes with only two levels, both of which are medium sized sedans that are equipped with a V6 engine and four doors. Their differences are many, where they vary in their engine styles, their features, and and their suspension tuning.
The firs model is the base TL, which comes with a 258 hp 3.2 liter engine and a five speed automatic transmission with option for manual and a lever right on the steering wheel. It comes with leather upholstery and an eight speaker sound system, six-disc CD changer, DVD player with surround sound, and XM satellite radio with an MP3 connection. There's also a volume control sensitive to the speed of the car, and a wireless Bluetooth cell hook up.
The Type S comes with all of the above, and adds a navigation system. It also comes with 3D Solar Sensing Climate Control which uses the position of the sun to keep the temperature right on both sides of the car. You can also take advantage of the option for some high performance summer tires. The Type-S comes with a 286 horsepower 3.5 liter engine, as well as limited slip differential and better traction.
Both models are equipped with the standard selection of airbags, but also is added electronic sensors that sense the weight and position of passengers and monitors their deployment based on this information. With electronic stability control, antilock brakes, and electronic brake force distribution, these cars are stylish and safe.
Cheers,
Fashun Guadarrama.
About the Author: Austin-1