Summary
2007 Audi A6 is a five-seater car with four doors. This car offers variable speed automatic transmission with overdrive.
Price
MSRP: US$41,950-US$55,300
Invoice: US$38,600-US$50,951
What is New in 2007 Audi A6?
Additions to 2007 Audi A6 include new overhead console, 4.2-liter V8 with direct injection and 350 horsepower debuts, digital speed indicator, rearview camera for the park assist system, and iPod integration.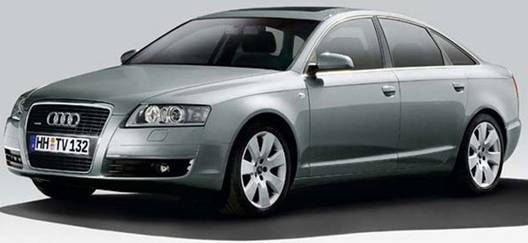 Picture 1: 2007 Audi A6 (front view)

Picture 2: 2007 Audi A6 (side view)
Introduction
2007 Audi A6 offers all luxuries of a sedan and wagon put together. Spacious cabins take away monotony of long drives.
Body Styles, Trim Levels, and Options
2007 Audi A6 is available as sedan and Avant wagon. You can choose between Premium package and S-line package. Available options include rear park assist with rearview camera, adaptive air suspension, iPod integration, navigation system, adaptive cruise control, and voice-recognition technology.
Powertrains and Performance
2007 Audi A6 4.2 offers 4.2-liter V8 with 325 lb-ft of torque and 350 hp while 3.2 offers 3.1-liter V6 with 243 pound-feet of torque and 255 hp.
Interior Design and Special Features
Interiors of 2007 Audi A6 are commendable with standard leather and wood inlays, 10-speaker Bose stereo, Multimedia Interface (MMI) vehicle management system, and optional navigation system.
Safety Features
2007 Audi A6 offers all essential safety features like stability control, antilock disk brakes, front-seat side air bags, and full-length head curtain air bags.
Driving Impressions
2007 Audi A6 offers accurate steering with confident driving at high-speeds. Additionally, all-weather capability makes driving this car a pleasure.
Pros
Elegance, sturdiness, and simple use
Cons
Absence of manual transmission
About the Author: Austin-1