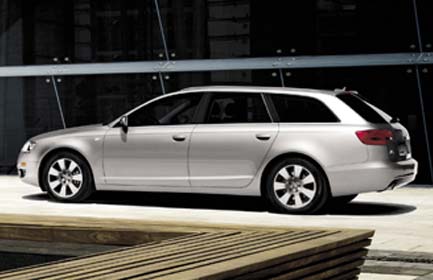 The 2007 Audi A6 comes out swinging, ready for the competition, and it has reason. It performs well under pressure and above it, has a cabin designed in a lovely manner, and is priced to impress and not to hit too hard on your wallet. For those looking for a great vehicle in the section of luxury sedans and wagons, this could make an excellent addition to your car owning history. Like all Audis, it is particular safe with its addition of the all wheel drive ability, making it a car that is good for the family.
The cabin was made with care, and its detailed features add to the classiness of its look. This car moves around like a deer, making you feel like you aren't even driving, its handling is so smooth. And for a sedan, it has great stamina and durability, capable in any type of weather and always an ease to drive around in. For a car of its type, it costs little, and its V8 engine packs a punch. It also has an MMI system that's pretty easy to get used to. On the other hand, its version with the V6 doesn't pack a lot of low end torque, and while its handling is smooth it doesn't measure up to BMW. And there's no option for a manual transmission, for those of you that swing that way.
New in 2007 are
4.2 liter V8 engine with 350 horsepower
overhead console
digital speed indicator
trip computer
rear view camera
park assist
iPod capability
no active head restraints
I consider the loss of active head restraints a confusing one, and one you should think about, considering what a great job this safety feature does in favor of protecting your neck and head should you get into a collision. However, the Audi A6 does come with many other safety features that you might feel make up for it, such as anti lock disc brakes, stability control, and full length head curtain air bags. It did well in car crash tests, as well.
Cheers,
Fashun Guadarrama.
About the Author: Austin-1