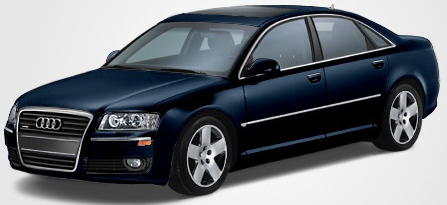 The Audi A8 has an unpretentious sound to it, unlike its siblings in the luxury car section of the auto industry, which often have elaborate names to go with their elaborate prices. Despite such seeming simplicity, though, the Audi A8 is full of class and is no less luxurious than any other car in its area. Not only that, but it is well crafted and performs like it has nothing to hide. With a roomy interior that has an artistic design and a great drive, the Audi A8 puts up its fists to the competition. Still, it does fall a little short as compared to the other cars in its class that are its main foes.
New in 2007 for the Audi A8 are a 4.2 liter V8 engine with 350 horsepower, an improvement on the 2006 engine, which had only 335-hp. Some more little add ons are included, such as a CD player that is MP3 capable and satellite radio. There are also a few options for wheel types coming in twenty inches for the model with the 4.2 engine. It also adds a rear view camera, a great new safety feature, and as the model year winds down it will have iPod capability.
The Audi A8 comes in three trim levels, being the A8 which is
in possession of a powerful V8 engine
as well as a standard wheelbase
navigation system
16 way power adjustable front seats
HID headlights
and a 12 speaker sound system
The A8 W12 comes with all of the above, including
keyless ignition
parking sensors, power door shutters
climate control
front seats that massage, heat, and are ventilated
As the middle model is the A8 L, which has everything that comes with the base model as well as more room in the back seat. There are also a few optional packages, such as sports package that comes with sport tuned suspension and steering wheel shift paddles, and the separate option of a sunroof.
Whichever engine your version of the Audi A8 comes with, the response is fantastic when you're putting on the gas, and it gives a spark of powerfulness to any drive, whether you're just speeding up slightly or rushing off after that light turns green. To counteract this sense of speed, the A8 also has several safety features, such as side impact air bags which add extra protection for the lower body as well as the chest, a tire pressure monitor, and stability control, both of which have been known to decrease the instance of collision.
Cheers,
Fashun Guadarrama.
About the Author: Austin-1