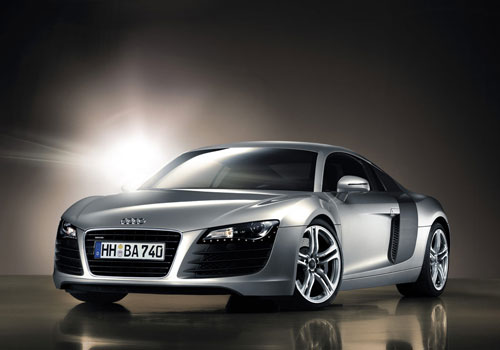 When it comes to top luxury cars, most people are just looking at the performance, and that's what the discussions tend to be about. However, cars like the 2007 Audi R8 show that there is more to it than that, even in a car where performance quality is expected, there are other qualities as well. With its sharp outline and nice, futuristic appeal, the Audi R8 isn't just a car to whip past innocent bystanders with to show off (though you can do that, too). It's the sort of car that you can use everyday for normal things with no problems, and it has a different kind of mechanical design that make it superior to many other cars in its class. Plus, this car has style. Just look at it.
One of the great things about the Audi R8 is its handling, which is balanced and easy and makes for a very comfortable drive with little worries. It also has highly improved transmission and suspension, which improve its performance of this car that is an ease to drive around. Unlike most cars of its nature, its actually pretty spacious inside and doesn't just cram the passengers in like sardines. On the other hand, it doesn't have a lot of customized features given by the manufacturer and it just doesn't measure up to the speed and verve of cars like the Corvette Z06.
In 2008. the Audi R8 will be Audi's first step into the world of midengine exotic sports cars. It has a new style that is on the edge, making it almost a little menacing to look at, and its flashing metal body is enough to blind you. With its V8 engine with 420 horsepower, this machine isn't skimping on the power, either.
Fast cars, however, are a dime a dozen (don't you wish?), so in order to turn a real profit on a vehicle in this category, you have to have a plan, an individual plan that will actually effect some change in the industry. The Audi R8 has that unique quality that makes it stand out beside all of the other cars of its kind, although, truly, there aren't any other cars of its kind. Its closest rival is the Lamborghini Gallardo, which costs almost a hundred thousand dollars more, so we're not actually seeing that as competition.
The Audi R8 goes from zero to sixty in 4.4 seconds, with the height of its speed capping off at 190 miles per hour. With its quattro all wheel drive, you can go that fast (well, not that fast) without having to worry because you have a car that has great control of its stability.
Cheers,
Fashun Guadarrama.
About the Author: Austin-1