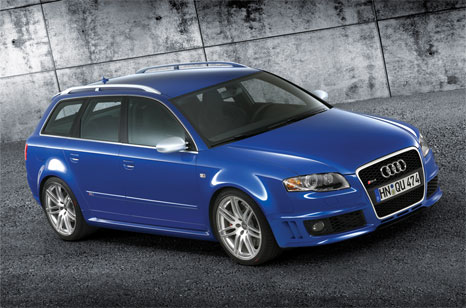 The Audi RS4 may cost a lot, but it's faster and stronger than a lot of its industry counterparts, including those flashy BMWs that pretend to hold the trophy in the game. The Audi RS 4 might not look like it's up to much, but it has a lot of power in that tiny, curvy little frame. It has a fantastic engine that knows few rivals, great handling, and seats that add comfort and support to any ride. The brakes are very responsive and firm, and the ride will be one of your life. On the other hand, it does cost quite a bit and weigh a little too much for a car of its class, and the back seat passengers might find the seats little comfort in the small amount of space they're provided.
In 2007, the Audi RS 4 has added a V8 engine with a surprising 420 horsepower, the kind of hp you might expect to see on a more sporty looking vehicle, or at least something a little bigger. With all wheel drive and 40/60 front-to rear torque split, the RS 4 is an update on the Audi's A4 sedan, all new for the new year.
Compared to all of the other flashy sedans that have recently been rolling out of German factories, Audi has been lagging behind. With the introduction if the RS 4, it catches up to its peers and throws them for a loop. Its quattro all wheel drive is a good place to start, which makes it a better option than its peers which tend to come with rear wheel drive. The other vehicles might add safety features such as electronic stability control, but all wheel drive is a built in control, and the RS 4 has stability control to boot, making it doubly effective in wet conditions.
The Audi RS 4 comes with the following features standard:
19 inch wheels
high performance tires
electronic stability system
HID headlights
sports seats
power adjustable seats
seats are heated
leather upholstery
six CD changer
You can also add the options of a satellite radio and a Bose sound system, as well as Homelink, Bluetooth, and a sunshade for the back.
Cheers,
Fashun Guadarrama.
About the Author: Austin-1