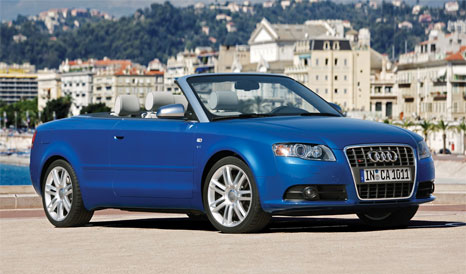 Luxury cars are great, but sometimes they just aren't practical. It's nice to have a car that looks great, goes fast, and has all sorts of neat gadgets, but sometimes what you really need is a car that can be there for you when you need it. Owning a car is kind of like a relationship, and the Audi S4 is the person who's both reliable, good looking, and always around when you need them. It brings together actual utility in real life with fantastic performance that can satisfy anyone who has an interest in cars. With great performance in car crash tests and good handling, this vehicle is not only good looking but safe as well. It also has a warm interior and the option of either convertible or wagon. On the downside, though, the back seat is pretty small and if you intend to be carting around lots of adults a lot of the time, it might not be a very useful option.
In 2007, the Audi S4 catches up with its peers just like the A4 did, and it's got a different style and a quiet top that changes things up a bit. It also, in the sedan version, has a new body kit, a sunroof that comes standard, and an all new sound system that is MP3 compatible. You can also get a satellite radio that comes with Sirius. Sadly, though, the free maintenance program that Audi used to have is no more.
In this new version, the Audi stuffs a very powerful 4.2 liter V8 engine into an area that was made for a four cylinder engine and would have little room to grow even with a six, but somehow they fit it in there. They had to tighten things up a little bit, and the whole engine bay has been moved around to make room for the extra size of the V8. The Audi S4 complements the powerful engine with sport-tuned suspension and brakes that are both more responsive and more powerful.
The Audi S4 allows several different body styles that you can pick out of, and its quattro all wheel drive helps you out on those wet roads. Of the body styles are the convertible, the wagon, and the sedan, making it sometimes hard to recognize this car as being of the same model as it goes through its stages. With a smaller sized, but well made cabin and a well built exterior, the Audi S4 embodies most of the best qualities of a small car.
Cheers,
Fashun Guadarrama.
About the Author: Austin-1