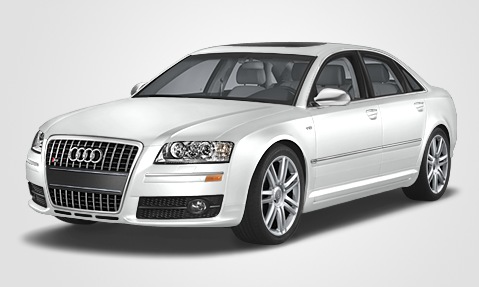 Nice, isn't it? If you take a good, long look at it, you can see why many people would pick this 2007 Audi S8 as an option for a luxury sport sedan. It comes with all wheel drive, which makes it to where you don't even have to worry about weather, because the all wheel drive can fend off most bad road conditions. Its exterior design, too, is well crafted and sharp enough to catch any body's eye. Despite the fact that it doesn't quite meet up to its rivals when it comes to handling and performance, the above attributes make this little sedan something that is still quite the catch.
It has a sweetly running powertrain that adds no extra jumpiness to the car and makes for a smooth ride. Its interior is spacious and the materials used to decorate it are well chosen and rich with color and softness. The updates in its style are muted and classy, and its just dripping all of the features that you could ever need. The brake pedal isn't strong enough, though, and takes some getting used to, and for a performance model, this Audi S8 just doesn't go fast enough to live up to its category.
The new addition in 2007 for the Audi S8 is a roaring V10 engine, pinched from Lamborghini. It comes with only the one trim level, but that has everything you could ask for. The options are things such as
keyless ignition
front and rear park assist with camera
cruise control
rear climate control
satellite radio
heated seats
sunshield
However, it comes standard with
twenty inch alloy wheels
automatic climate control
navigation system
Bluetooth
bi-xenon HID headlights
Cheers,
Fashun Guadarrama.
About the Author: Austin-1