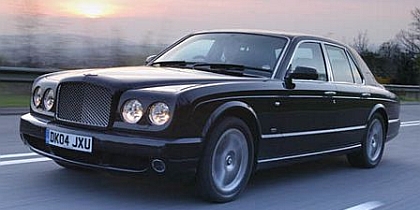 I have a hard time taking my eyes off of the 2007 Bentley Arnage. It has just that kind of look that I like, with a mute display of wealth and style in a well designed exterior and a big grill with some pretty looking headlights. It's up there with the world's best when it comes to cars, with above average performance and luxury. Still, it costs up there in the hundreds of thousands dollars, and such a price makes you wonder if it's really worth that, considering you could probably fund the cure for cancer for the price of just two of these cars.
One of the best things about it is that, like many other Bentleys, it is well up there when it comes to its ability to accelerate, and leaves other cars in the dust. It has its own kind of style which it can risk to have up there in the ultra luxury class of cars, and besides that, for such a smaller car, it has a lot of space on the inside. Still, as seems to be Bentley's downfall, all of those controls on the dash are confusing and it can take some time getting used to, if you ever can. It costs more than a couple of houses, and it takes as much gas as a fleet of similar sized cars in lower prices.
The 2007 Bentley Arnage is offered in three trim levels.
Arnage R, at a mere two hundred and thirty thousand dollars.
The Arnage T, a sportier version, at only twenty thousand dollars more. This has about 50 hp more than other two levels, so may be preferable for those who like to live life on the fast side
Arnage RL, for twenty thousand more. This is ten inches longer, and thus more spacious in the back sea.
The Bentley Arnage comes with many options, including
DVD navigation system
eighteen inch wheels
Xenon headlights
reclining rear seats
climate control
Bluetooth connectivity
front and rear parking sensors
The Arnage can be customized in many ways, from colors to wheels to the upholstery.
Cheers,
Fashun Guadarrama.
About the Author: Austin-1