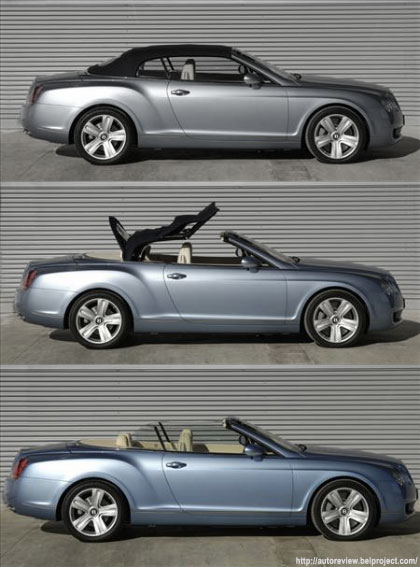 The 2007 Continental GTC is pure Bentley fare, and it's just full of the kind of luxury you would and should expect from this manufacturer of luxury vehicles. Compared to other high end luxury cars, it has a lot more to offer both in class, competence, and features. If you want a car that focuses mainly on the luxurious experience, then the 2007 Bentley Continental GTC is the way to go.
Everything packed into its small body is top of the line, from the body materials down to the features offered. Its luxury can't be matched by its rivals, no matter how they try. It rides with beauty and composure. For a convertible, the wind just doesn't get in as much as expected, and when you have the top up, you can expect a silent ride. On the other hand, it's not as sporty as its competitors with a curb weight that is to heavy for its type.
This convertible that comes with four seats and one trim level full of features includes
19 inch wheels
adjustable suspension that comes with four settings
power roof
HID headlights with high-pressure washers
12 speaker sound system
six disc CD changer
leather upholstery
navigation system
Bluetooth technology
There are some add on features too, like wheels with an extra inch and lambswool rugs. Convertibles, being a little on the unsteady side, need to be more closely examined for safety features, so let's take a look. The GTC comes with electronic stability control, traction control, side airbags, a tire pressure monitoring system, and anti lock disc brakes. These will help prevent a crash, but understand that you're still pretty unsafe once the collision is inevitable.
Cheers,
Fashun Guadarrama.
About the Author: Austin-1