Everybody wants a convertible. The ability to drive fast down the road while the suns going down and feel the breeze whipping all around your body like your flying, instead of just tunneling through a tiny window and competing with the wind from the other windows to throw your hair in front of your eyes. It's a dream.
But with a convertible, there's also the added anxiety of theft and vandalism. I can't count the number of people I know who have a story to relate about so-and-so who owns a convertible but had their retractable roof slashed and their radio stolen.
The new BMW 3 series Convertible solves this obvious problem by being the first with a retractable hard top. Say good bye to the folding tops made of fabric–this one's made of steel.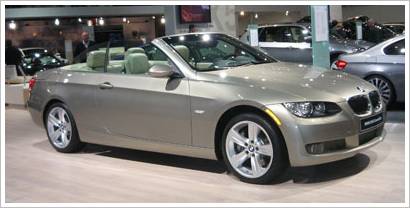 The radio antennas are inside the car, so there's none of that strange, lone wire sticking up into the sky that can distract from the beauty of many other BMWs. The steel top makes the car more visible and allows for more light on the inside when it's closed. While the 328i of the series is equipped with 230 hp, the 335i has a twin-turbo version with an impressive 300 horsepower.
18 inch wheels
fun-flat tires
0 to 60 in 5.5 seconds
12.25 square feet of trunk space; 7.3 with the top up
22 seconds to open top
Cheers,
Fashun Guadarrama.
About the Author: Austin-1