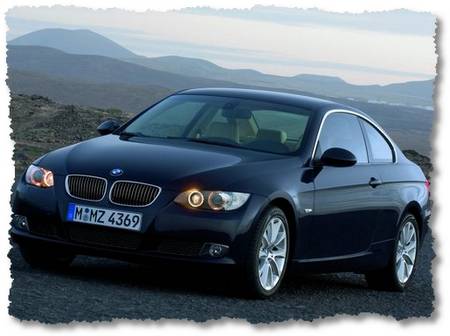 The BMW 3-series has been around for a long time. I have a 3-Series, and it's older than I am. It's strange to look at the rounded contours of the 2007 model of the BMW 3-Series and compare it to my own version from the eighties and imagine tat they are the same kind of car. But they are, and it says a lot that this vehicle has come so far. Not just since the 1980s, but since last year, the 3-series has been improved in several ways and is pretty much all new for 2007.
More appealing than the sedans released last year, the two door coupes of this year offer just as much space in a more stylish, slimmer fashion. It's a little longer and a little lower, and the resemblance between the coupe and the sedan pretty much breaks off at the door handles. It comes with sports suspension, which makes the ride a little sharp and meticulous, but it's still pleasurable and very responsive. It comes in three levels, each varying greatly from the others.
328i and 328xi. 3.0 liter six cylinder engine with 230 horsepower. Six speed manual or automatic.
335i. 3.0 liter inline V6 engine. Two turbochargers and fuel injectors. 300 horsepower. 300 pound feet of torque. 18 inch wheels. Big brake discs. Chrome exhaust tips.
All of the levels come with leather upholstery and automatic climate control, as well as xenon headlamps, fog lamps, door handles that light up, adaptive brake lights, a keyless ignition, tilt and telescoping steering wheel column, a power moonroof, seats in the back that fold down, a four year warranty, and sport suspension. You can also add options such as parking assistance, sports seats, headlamp washers, a ski bag, an emergency services notification system, and satellite navigation.
The safety features include the standards, but also BMW's xDrive system which improves the stability of the drive. There's also a tire pressure monitoring system and dynamic stability control, along with some extra that help do things like get the water out of the brakes during wet weather. Run-flat tires are also included.
Cheers,
Fashun Guadarrama.
About the Author: Austin-1