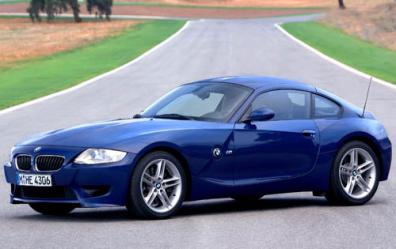 The 2007 BMW M has its own shape and style. It brings together the culture of the muscle car with high class European style. These seem like two things which cannot and should not mix, but the chemical mixes to make an interesting potion which makes it one of the best choices for a sports car that costs less than sixty grand. The engine is quick, light, and roaring, and the steering and handling are both responsive and competent. Its built sturdily, although it looks like it could fall apart. Its thin, dolphin head slices through the wind.
Some might not like that the car does not come with an option for automatic transmission. This is definitely a turn off for people who consider manual transmission as a ungainly, difficult thing of the past, but so it is, and if you know how to handle it, it could surprise you. It's also true that the ride is jumpy and nowhere near smooth, which also might put off many drivers who are more into comfort than they are into speed.
Considering that this is only the M's second year on the market, not much has changed, although a tire pressure monitoring system was added. As for the other features, which come in the different body styles of roadster and coupe, they are:
quad exhaust outlets
18 inch wheels
xenon HD headlights
leather sports seats
ten speaker sound system
There's also the premium option package, which is absolutely necessary for anyone looking for a great driving experience. The premium package comes fit with power seats with memory, park assist, Bluetooth connectivity, and auto-dimming mirrors. It also comes with cruise control, and costs a hefty sum. Other options are a navigation system, heated seats, and better leather.
Cheers,
Fashun Guadarrama.
About the Author: Austin-1