Summary
2007 BMW M can seat only two passengers. It is a convertible sports car. It has two doors and is available in two trim levels of Roadster and Coupe.
Price
MSRP: US$50,100-US$52,100
Invoice: US$46,090-US$47,930
What is New in 2007 BMW M?
2007 BMW M presents few additions to its 2007 models as there were major changes in 2006. Standard tire-pressure monitoring system is a new addition for 2007.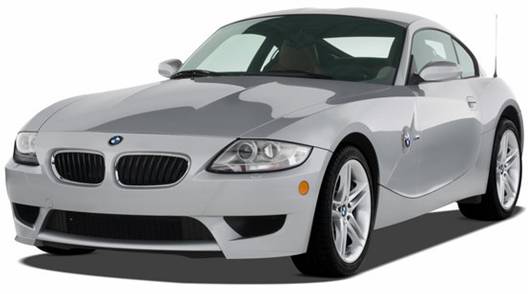 Picture 1: 2007 BMW M (front view)

Picture 2: 2007 BMW M (side view)
Introduction
2007 BMW M presents lightweight vehicle models that offer higher acceleration. Roadster and Coupe models provide aggressive ride similar to that of racing cars.
Body Styles, Trim Levels, and Options
2007 BMW M is available as roadster or coupe. Options include navigation system, higher-grade interior leather or wood interior trim, heated seats, or Premium package.
Powertrains and Performance
2007 BMW M convertible sports car has 3.2-liter straight-6 engine. This can boost 262 pound-feet of torque at 4,900 rpm and 330 hp at 7,900 rpm.
Interior Design and Special Features
2007 BMW M offers sports seats and steering wheel. Coupe has more 12.8 cubic feet of space than roadster.
Safety Features
2007 BMW M offers safety measures like automatic brake-disc drying, stability control system, tire-pressure monitor, and side air bags.
Driving Impressions
Driving pleasure of 2007 BMW M accelerates due to instant brakes, quick steering, and smooth and controlled speed levels.
Pros
Impressive steering and adept handling
Cons
Lack of automatic transmission
About the Author: Austin-1