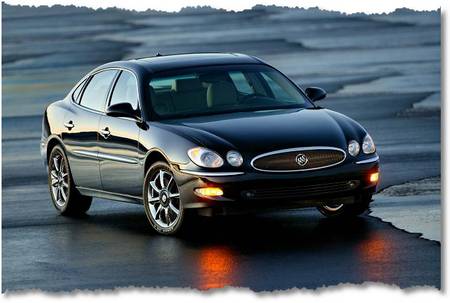 The 2007 Buick Lucerne is a luxury car that comes at an unexpected prices. Its competent driving ability meshes with its comfortable interior, easy, quiet driving, and graceful handling of more difficult road conditions. It's one of the funnest to drive of the Buick family, with its V8 engine that comes equipped wit Magnetic Ride Control, a new kind of sports suspension that offers a unique driving experience. First released in 2006, the Lucerne showed up its partner the LeSabre and created a line that leans heavily toward Buick tradition while still able to compete easily with similar cars from other manufacturers.
The CX cost a little more than $25,000 and is equipped with a four speed automatic transmission and a 3.8-liter V6 engine. It's got cloth upholstery with seats enough for five people, an adjustable power driver's seat, six speaker sound system, audio controls on the steering wheel, keyless entry, and 16-inch wheels. You can add some more seating to it, allowing room for a total of six passengers, as well as various option packages.
Comfort and Convenience Package. This comes with a universal garage door opener, vanity mirrors, illuminated visors, rain sensing windshield wipers, and heated and electrochromic rearview mirrors.
The Driver Confidence Package. This comes with rear park assist, keyless ignition, and an alarm system.
The CXL ranges between twenty-eight and thirty thousand, depending on whether you opt for the V6 or V8 engine. It can fit up to six passengers in power seats. It also comes standard with climate control, a leather wheel, 17 inch wheels, and Airlift real shocks that provide automatic level control. It also includes magnetic assist steering, and an electronic stability control system. Not only is this version of the car roomier, but it also packs more power and allows for safer driving as well.
The CXS, at $35,000, has a V8 engine and a set of 18 inch wheels, Stabilitrak, Magnisteer, magnetic ride control, leather seats, and a nine-speaker sound system. It's also packed with a touch screen navigation system and a six CD changer as options.
Some other options for the Lucerne include heated front seats, keyless start, and heated windshield washing fluid with rain sensing wipers. It comes with plenty of airbags and seatbelts with pretensioners, as well as traction control, anti-lock brakes,and a tire pressure monitor. All in all, the Lucerne is a vehicle that is luxurious and safe, as well as a pleasure to drive.
Cheers,
Fashun Guadarrama.
About the Author: Austin-1