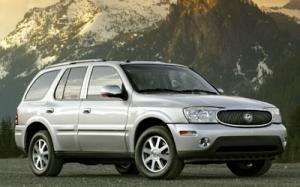 The 2007 Buick Rainier is a silent participant in the competition between sports utility vehicles this model year, and all though its quiet strength is a good thing overall, it doesn't do anything to help the SUV out in terms of sales or comparibility. With a V8 engine, you can at least say that the Buick Rainier is trying. However, it is supposed to be a luxury sports utility vehicle, but it just doesn't make it to the finish line like all of its rivals.
If you are interested in a quiet drive, at least from outside noises, then the Buick Rainier is here to serve. With well sound proofed interior to keep out the wind noise and sounds of traffic, this vehicle makes you feel as if you aren't even out on the road. There is the possibility to go for a V8 engine, which is full of power, and the Rainier does do decently well even off the road. It is, however, built a little shoddily with materials that are cheap and not the best choices for this type of vehicle. It handles badly, so you might not even notice the silence as you'll be distracted to much by that. Finally, for an SUV, it lacks the very utility that it is supposed to define: cargo space. There's no room.
Not much is new in the 2007 model year for the Buick Rainier, although an OnStar navigation system with turn by turn directions has been added and some colors have been changed. The rest of it, though, is pretty much the same as ever before.
The Buick Rainier is offered in one trim level, the CXL, which is a sports utility vehicle that can fit five passengers and has four doors. It also comes with
seventeen inch wheels
leather upholstery
power front seats
climate control
OnStar
There are also options to add a sunroof, power adjustable pedals, heated seats, a DVD entertainment system, six disc CD changer, and satellite radio.
Cheers,
Fashun Guadarrama.
About the Author: Austin-1