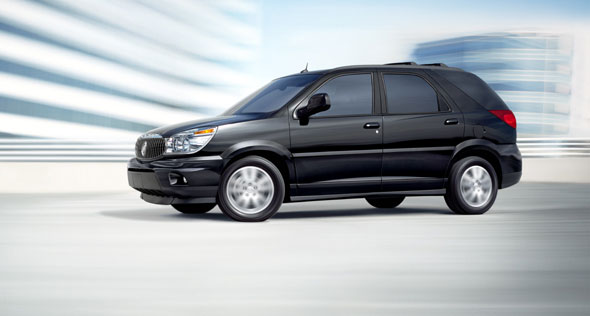 The 207 Buick Rendezvous has several advantages over its competitors, including more than the usual amount of space offered by mid sized sports utility vehicles. It also offers over them a tank that's a lot easier on the wallet, something hard to find in a market where manufacturers are just beginning to learn the definition of fuel efficiency. Still, compared to the other SUVs in its class, the Buick Rendezvous performs less than expected and has an interior and cabin area that are topped by several other brands. Not to mention that for some strange reason, Buick has taken away its all wheel drive, which means that this SUV is less able to weather the hard conditions of the road.
The seats in the third row fold down to the ground, though, adding more cargo holding room to this mid sized SUV. It rides easily and adds comfort to the experience, and with its great step forward in fuel efficiency and a decent cabin design, it's not such a bad choice. Still, the lack of all wheel drive is a real downside and it packs less punch than its rivals on the road. It handles badly and without balance, and the inside is decorated with cheap material. The exterior, too, is behind the times.
In 2007, the Buick Rendezvous has knocked out a couple of trim levels and been left with just the CX and CXL, without the plus added on to either. This is the first year that it goes without all wheel drive, and it also leaves out the cassette player and the 3.6 liter V6, which is the reason for a lot of the loss of power. However, coming standard now are anti lock brakes and a year subscription to OnStar.
Cheers,
Fashun Guadarrama.
About the Author: Austin-1