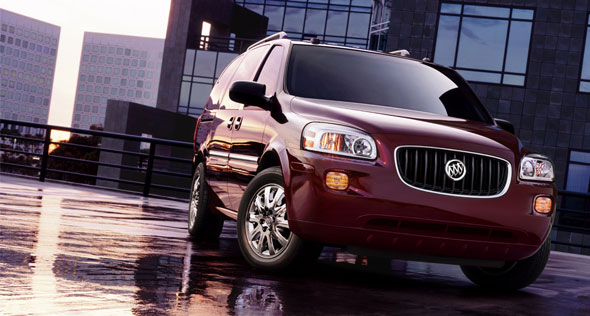 The 2007 Buick Terraza has a lot to say, but it's drowned out by its competitors as they roar past it on the road. Sure, this spicy minivan looks nice, but it just can't handle itself too well doing the thing most important in a vehicle–driving. It has some ups, but mostly downs. However, despite this it does have a style that other minivans can't rival, considering they all look practically the same. Its looks on the inside, too, are well crafted to be looked at and admired.
It may not ride well, but the drive is a smooth one, with few vibrations. It is almost like a filing cabinet with several interest places to be storing things in and plenty of room. It comes standard with electronic stability control, making for a much safer ride, and it also has a system in which you can store your multimedia files. The brakes, though, are lacking and in order to take a turn you better have some room around you. The side airbags, which are supposed to protect the passengers, do not protect them for all three of the rows. Last of all, the noise! The cabin lets through all kinds of sounds, and though the ride may be smooth it will not be silent.
Getting rid of the all wheel drive model of the Terraza, Buick adds a 3.9 liter V6 engine to be the standard on the vehicles for this model year. It has three trim levels, which are the CX, CX Plus, and CXL. The CX comes with
eight speaker sound system
OnStar
cruise control
remote entry
trip computer
And the CX Plus
sport tuned suspension
dual visor vanity mirrors
And the CXL
rear parking assist
better storage
alloy wheels
There is the option to had a digital media system that can hold forty gigabytes where you can put thousands of songs and a couple of handfuls of movies, for a little extra. Also offered are heated seats and satellite radio.
Cheers,
Fashun Guadarrama.
About the Author: Austin-1