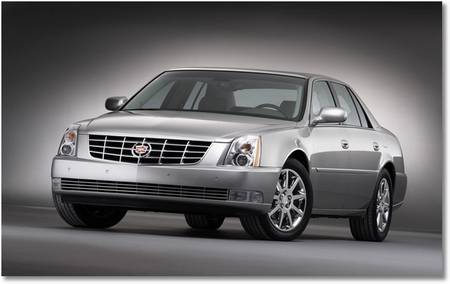 For almost sixty years, it was the DeVille, and it was a little difficult for Cadillac to overturn that and bring out the 2007 DTS, but it was time for an overhaul to make this little vehicle ready for the new century, and that's exactly what Cadillac did. The DTS used to just be part of the DeVille model, but it's gotten promoted and now it's the whole thing. It's more sporty than before, as fits its name, as it was the sports version of the DeVille, but it still remains as dignified as Cadillac's trusty old line, and is an enjoyable ride on the twisting roads.
The version we have now was first released in 2006, with an overhaul of body, suspension, and running gear. Now it involves the choice between two different engines, along with a fistful of features and options so that you can tailor the car to your own wants and needs. Safety wise, it comes with six airbags and enough bulk to keep you protected. The driver's line of sight is superb, and it eight way adjustable front seats, lumbar suport, OnStar, keyless start, Magnasteer, laminated side glass, and a three months subscription to XM Satellite Radio.
The Luxury I package, which comes out as just under forty five grand, includes:
Stabiltrak
brake assist
ultrasonic parking assist
heated leather steering wheel
universal garage door opener
heated windshield washer fluid and rearview mirrors
The Luxury II package, which is priced at $46,500:
Luxury I
six-disc CD changer
eight speaker sound system
three zone climate control
massage for front seats
power tilt/telescoping steering column
rain sensing wipers
sun visors for the back seats
The Performance Package:
most of the luxuries
292-hp 4. liter V8
performance algorithmic shifting
magnetic ride control
You can also add the options of cruise control and a DVD navigation system, which can be used to watch movies when the car is placed in park, along with leather upholstery and a power sunroof.
Cheers,
Fashun Guadarrama.
About the Author: Austin-1