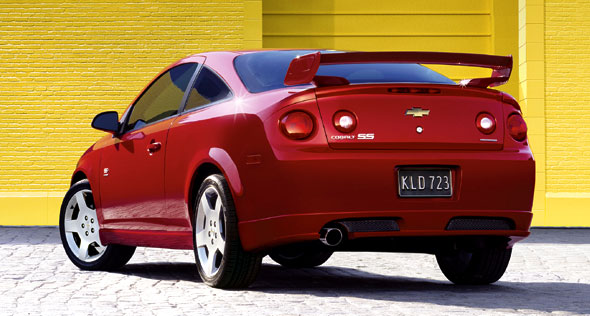 Chevrolet has had some difficulties with small cars, although with the 2007 Cobalt things seem to be getting a little better. Compared to all of the small cars that Chevrolet has released over recent years, the Chevrolet Cobalt definitely comes out on top. However, it doesn't do the same market wide. It lacks in areas that its competitors do well in, such as comfort and handling. These cons take a big hit on the greatness of this car, and it could have been so much better with a little more care.
It does decently well on acceleration, not exactly a problem unless you're very particular about this aspect of a car, and all of the powertrains work together smoothly. The driving experience is a silent one, blocking out noises from outside, and there is no vibration to distract from it, either. On crash test results, the Chevrolet Cobalt fared pretty well compared to other cars and does well on safety.
On the downside, there are the aforementioned problems of comfort and handling. The handling isn't bad, per se, but it is just absolutely boring and not a good choice for anyone who actually likes to enjoy their ride. The seats are very uncomfortable, and make longer trips a pain. There isn't much space to put things in on the interior, and its made up of sub par plastics. In the back seat, there isn't much space and no adult could comfortably sit there.
Its updates for the 2007 model year are:
new sound systems
new wheel styles
three spoke steering wheel
remote vehicle start as an option
On the bright side, this is a very safe vehicle, with antilock brakes as an option for the LS trim levels and full length curtain side air bags for all of the trim levels. All of the levels except the lowest come with OnStar. You would do well to get the side curtain air bags, considering that side impact test rated the vehicle good with them, but poor without.
Cheers,
Fashun Guadarrama.
About the Author: Austin-1