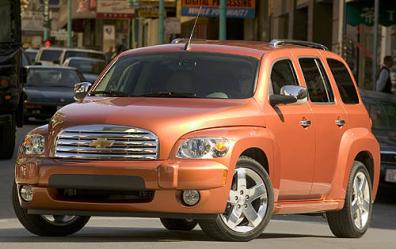 The 2007 Chevrolet HHR rips onto the market of tall compact wagons, one of the newer offerings among this class that is still able to prove itself both on the road and in the showroom. Compared with its competitors out there on the market, this new kid in the class has a lot more to offer, both in terms of its performance and also the features that come standard as well as the options offered.
The Chevrolet HHR is a silent ride that handles the road with smooth agility. It looks great and innovative both on the outside and inside, with plenty of room on the inside as well both for cargo storage and people storage. It has a great sound system and fantastic options and improvements to boot, and its very easy to get good visibility. On the other hand, the brakes are second class to the other first class features, and its handling is sub par. The engine isn't well made and some of the choices of ergonomics are at best confusing.
For 2007, the Chevrolet HHR adds a little bit to the strength and power of its engine options. To the 2.2 liter, it increases to 149 horsepower, and for the 2.4 liter there is an increase to 175 hp. There is also a new trim level called the HHR Panel which comes out later in the model year. This comes with side panels without windows.
There are two body styles that can be chosen with the Chevrolet HHR, the four door wagon and the pane van. For the wagon, there are three trim levels, the LS, 1LT, and the 2LT. The LS comes with
sixteen inch wheels
cabin filtrating AC
cruise control
keyless entry
six speaker sound system
front passenger seat that folds down flat
Then there's the 1LT, which has
eight way power adjustable front seat
MP3 stereo
alloy wheels
And the 2LT, which comes with
firmer suspension
seventeen inch wheels
seven speaker sound system
fog lamps
You can add several options, like a sunroof and OnStar, as well as seat heaters, leather upholstery, and a CD changer installed in the dashboard.
Cheers,
Fashun Guadarrama.
About the Author: Austin-1