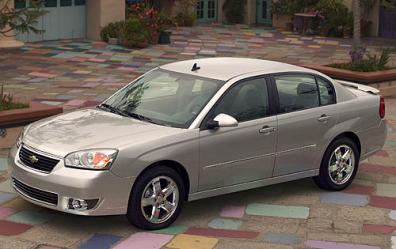 The 2007 Chevrolet Malibu Maxx offers a definite improvement on the other Malibu, although it still has a long way to go until it can catch up with its competitors. This edition of the Malibu comes with a lot more standard features that have become necessary in the driving culture, and it performs like its young and ready to go. Its fuel efficiency is surprisingly good, and it's roomy and comfortable on the interior. The cabin is adaptable to your needs and can fit a good number of passengers.
The new design called the hatchback makes it less difficult to get your stuff in there. The interior has lots of space, and even the back seats can be adjusted for increased comfort. The V6 engine which was an option on the other Malibu comes standard on the Malibu Maxx, making better performance a given, although it is still not the best performance. Not only is it comfortable to sit in, but it's the same to drive as well, and safe too, with great crash test results. It also comes with the remote start feature.
Just like the other Malibu model, though, the Malibu Maxx is the sort of car that fades into the background, like a man in a grey suit with a black umbrella. Utterly forgettable, both inside and out, it just isn't something to look at. The brakes and the steering responsiveness need improvement, and you need to concentrate on your driving, decreasing the value of the experience. It may be easy to load cargo in this wagon, but there's not a lot of space to put it in compared to other wagons. Things like electronic stability control and a manual gearbox just aren't there.
In the realm of safety, the Malibu Maxx has the following features:
four wheel antilock disc brakes
traction control
front seat side impact air bags
full length side air bags
In the crash test, the Malibu Maxx scored fantastic results. With the National Highway Traffic Safety Administration, it got five stars, the best rating, on the frontal impact test. With the Insurance Institute for Highway Safety, it hasn't gone through the crash tests, but expectations are high and it will probably rate well.
Cheers,
Fashun Guadarrama.
About the Author: Austin-1