Summary
2007 Chevrolet Malibu is a family sedan and can seat five passengers. It has four doors and is available in five trim levels ranging from LS to LTZ.
Price
MSRP: US$17,215-US$23,675
Invoice: US$16,268-US$22,373
What is New in 2007 Chevrolet Malibu?
Additions to 2007 Chevrolet Malibu include dual-stage technology in front airbags, higher engine power through variable camshaft timing, and Turn-by-Turn navigation system.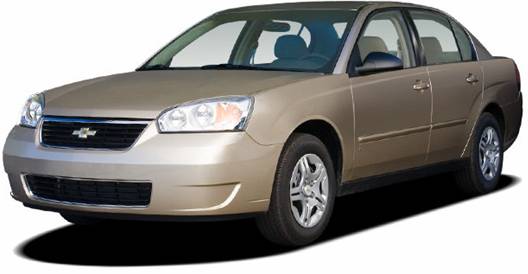 2007 Chevrolet Malibu picture (front view)

2007 Chevrolet Malibu picture (side view)
Introduction
2007 Chevrolet Malibu offers a comfortable ride with spacious interiors. Easy affordability makes it the choice of many car buyers.
Body Styles, Trim Levels, and Options
2007 Chevrolet Malibu is available in four trim levels of base LS, midlevel LT, luxury LTZ and sporty SS. Options include satellite radio, in-dash CD changer, and a sunroof.
Powertrains and Performance
2007 Chevrolet Malibu offers different engine levels. 3.5-liter V6 engine is the best choice as it delivers 32-mpg on highway and 22-mpg in city.
Interior Design and Special Features
2007 Chevrolet Malibu has intuitive and simple controls. Tilt/telescoping steering wheel and power-adjustable pedals provide driving comfort.
Safety Features
Safety features of 2007 Chevrolet Malibu include traction control, antilock brakes, and optional full-length side curtain airbags and front seat-mounted side airbags.
Driving Impressions
2007 Chevrolet Malibu offers smooth and pleasant ride with lot of power assist through electric steering. Stopping distances become long due to insufficient braking system in certain models.
Pros
Increased cargo and passenger space, better engine and fuel efficiency
Cons
Manual gearbox and stability control unavailable, brakes, steering, and interiors require improvements
About the Author: Austin-1