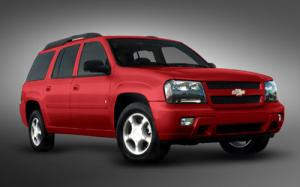 The 2007 Chevrolet Trailblazer has its pros and cons, like all cars, but some of its cons are off putting enough to make me avoid getting completely behind this sports utility vehicle. It's spacious on the interior and offers plenty of features and options to add on, and besides that is performs well and packs some power. At the same time, though, this SUV handles badly, which doesn't couple well with its excellent performance, and the inside design is badly planned out and made with materials that just shouldn't get near an SUV of its class.
The best feature of this car is, I would say, the performance, and it takes well to highways and higher speeds, driving comfortably. A long list of features make the driving experience a pleasant one, and a simple one as well with controls that are easy to understand and user friendly. Except for the SS trim level, it doesn't go around curves and turns very well, and there's no chance to add in a third row seat like many SUVs offer.
New for the 2007 model year are not very many changes, but here they are:
dual zone climate control in the LT trim level
auto dimming rearview mirror
rear audio controls
The SS, which, if you are going to purchase this vehicle at all is the trim level that you absolutely must get, has been split into two packages, being the standard, or 1SS, and the 3SS. That knocks out the former trim levels of LS and LT, and another trim level, the EXT which fit seven passengers, is also gone this year.
Cheers,
Fashun Guadarrama.
About the Author: Austin-1