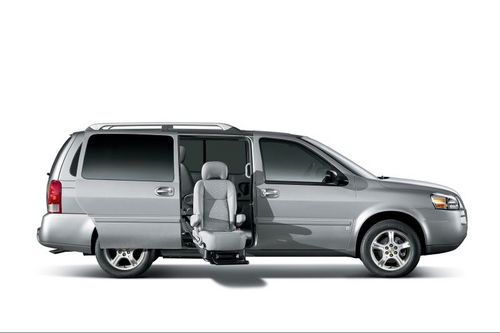 The 2007 Chevrolet Uplander is a decent addition to the minivan class, but that's about all that you can really say about it. The interior is nice, well designed and crafted uniquely, that is true. However, the Chevrolet Uplander just doesn't handle itself on the road too well, and while its rivals stock their minivans with features, the Chevrolet Uplander lacks heavily in this area. Besides all that, it didn't do very well in car crash tests,and considering that minivans tend to be family vehicles, safety is one of the most important aspects.
It does drive smoothly, which is a definite plus, although it just lacks the pleasure in driving that comes with many of its competitors. When it comes to storage, the Uplander is up there, with many different storage compartments to hold cargo in. It also includes a multimedia system that can store song files and movies, making the drive a lot easier if you have children ad need to go anywhere far or near. It was lacking in its crash test results rating the side impact reaction, and its side airbags don't protect all of three passenger back rows.
The Chevrolet Uplander comes with a few changes in 2007, with the loss of the all wheel drive system and the 3.5 liter V6 engine and the addition of front wheel drive and 3.9 liter V6. They also made that new engine E85 compatible, so you have the option to use regular gasoline, or you can do a mix with 85% ethanol. On top of that, the electronic stability control now comes standard all around.
Safety wise, all of the models are equipped with anti lock disc brakes and stability control. Side impact airbags to offer protection to the chest and torso are added along the first and second rows, as well as the front seats, but the third row is left without protection. In crash tests, the Uplander tended to score either marginal or poor.
Cheers,
Fashun Guadarrama.
About the Author: Austin-1