Summary
2007 Chrysler Crossfire is a convertible sports car or a sports car with seating capacity of two. It has two doors.
Price
MSRP: US$29,635-US$39,080
Invoice: US$27,572-US$36,072
What is New in 2007 Chrysler Crossfire?
2007 Chrysler Crossfire comes with more safety features and new monochromatic Bright Silver Metallic paint option.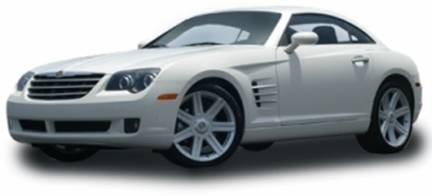 2007 Chrysler Crossfire picture (front view)

2007 Chrysler Crossfire picture (side view)
Introduction
2007 Chrysler Crossfire has a stylish look with improved exteriors and powerful engines. It offers a smooth drive.
Body Styles, Trim Levels, and Options
2007 Chrysler Crossfire is available in four trim levels ranging from Roadster to Coupe Limited in Limited trim package. Options include 240-watt Infinity Modulus audio system, universal garage door opener, heated leather power seats, tire-pressure-monitoring system, and upgraded tires.
Powertrains and Performance
2007 Chrysler Crossfire has standard 3.2-liter, V6, 215-horsepower engine with six-speed manual transmission and overdrive. Optional five-speed automatic transmission with overdrive is also available. It delivers 17-mpg in city and 25-mpg on highway.
Interior Design and Special Features
2007 Chrysler Crossfire offers spacious interiors with dual-zone climate controls, CD audio, power windows, cruise control, heated rear window, power fabric top, and choice of paint colors.
Safety Features
Safety features on 2007 Chrysler Crossfire include traction control, seat belt pretensioners, knee air bags for driver and passengers, multistage driver-side front air bag, constant-force seat belt retractors, and four-disc brake ABS with Brake Assist.
Driving Impressions
2007 Chrysler Crossfire offers easy driving on the highways and city roads. It has a tighter turning circle.
Pros
Increased safety features
Cons
Gear shifting surface slippery
About the Author: Austin-1