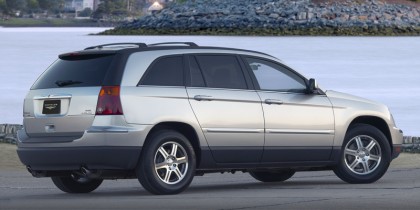 The 2007 Chrysler Pacifica gets rid of a lot of Chrysler's weaknesses, such as shoddy handling, in this model and comes with a decent body to boot. The Pacifica performs well and has great styling, both on the inside and outside, with an interior that make it welcoming to families who might not want to got the route of the minivan or regular sports utility vehicle.
The Chrysler Pacifica is spacious, to start off with making it a good choice for a big or small family, or really just anyone who needs some room all over, not just in the trunk. It has plenty of space to fit four people comfortably and handles well, especially a vehicle of its size. The interior design is luxurious, a surprise in a vehicle of its level and class. Still, once you try to stuff six people in there it gets a little tight and not so spacious after all, and it's not the durable option that many families might be looking for. The base model comes with a 3.6 liter V8 engine, which performs at a snail's pace.
Lots of things have changed for this vehicle in the 2007 model year.
4.0 liter V6 engine
six speed automatic transmission
a sound system with MP3 possibilities
eight inch DVD screen
side curtain air bags come standard
stability control comes standard
backup camera
backup sensor
The front of the Chrysler Pacific has also been redesigned, making it stick out more sharply.
Cheers,
Fashun Guadarrama.
About the Author: Austin-1