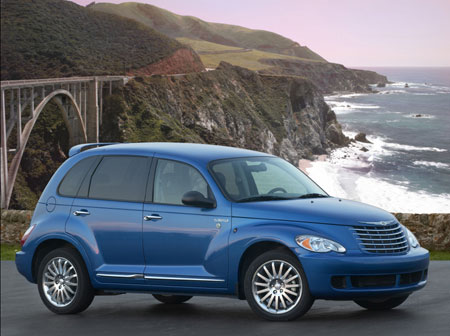 The 2007 Chrysler PT Cruiser looks like it came somewhere out of the past, maybe some kind of relative of those vans people used to drive around in the seventies. It definitely has an original shape and style, something new considering all of the futuristic looking cars coming out these days. The PT Cruiser looks good, but not like the sort of car that a couple of years down the line you might be able to operate by voice command. That's not a bad thing, though, because the Cruiser's individuality is what we like about ti. In the turbo model of the PT Cruiser, you get the option of great acceleration and some very useful features as well. Despite all this, though, unless you're just in it for appearances, there are many other cars that would make a lot more sense.
The PT Cruiser stands out in its style that looks lie few other cars out on the market today. It's very spacious on the inside and it has pretty understandable controls and good storage space. As an owner of a PT Cruiser, I have to mention that the controls can be a little confusing though. I lost my owner's manual and have not for the life of me been able to find a switch to turn on the light in the back, although I know I got it once before. That sort of thing should be more visible an obvious, but it isn't. Still, it drives smoothly and accelerates well, and it doesn't cost too much.
On the downside, if you don't go for the turbo engine, the acceleration also decreases by quite a bit and is really rather bland. For a car of its size, it could do better on fuel efficiency, and it takes forty dollars for me to fill up my tank, though it might cost more for the turbo model. If you're on the shorter side, you might find the seating a little uncomfortable up front, although visibility is still fine.
Additions in 2007 for the Chrysler PT Cruiser include a soft touch electronic lift gate switch. This options comes in all models of the wagon body style, including the base one. For both the wagon and convertible body styles, though, there is also the addition of remote entry and flood lamps.
Cheers,
Fashun Guadarrma.
About the Author: Austin-1