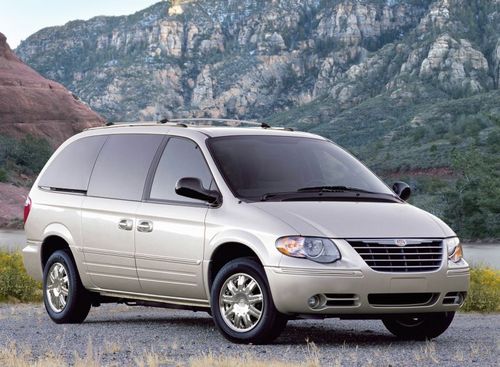 The 2007 Chrysler Town and Country isn't all bad when it comes to a choice pick for a minivan. It has its positive attributes. These are things such as increased storage ability and folding seats. However, its rivals have got it beaten, having both those qualities as well as better ability to handle themselves, better brakes, and increased acceleration. For the next model year, the Chrysler Town and Country will be renovated top to bottom, but considering that its weaknesses are Chrysler's standard ones, it seems doubtful that they will be fixed.
The storage is great, though, with compartments in the floor so that even if you have to fill the passenger area with people that doesn't mean you have to give up carrying your cargo. If you don't need to put people back there, though, the seats fold down flat on the floor, allowing for enough cargo space to make other minivans weep. The body of this car is well built and sleek, but it doesn't have a good past following it, having been proved unreliable before. The safety features that tend to come standard on most cars these days are only optional on the Town and Country, meaning you have to fork out a lot of money just for the protection you should be getting in the base price. It lacks electronic stability control entirely, and the brakes have no strength. The engine, too, starts to act up once you get on the freeway.
Nothing has been added for this model year. The Town and Country has four trim levels, which are the base level, the LX, the Touring level, and the Limited. The base level is smaller than the upper three, having a shorter wheel base. Options for all levels are following
satellite radio
Bluetooth connectivity
rear DVD entertainment system
The base level of the car comes with a 3.3 liter V6 engine with 10 horsepower, and the Touring and Limited upgrade that to a 3.8 level V6. A towing package can be purchased as an add on for these levels.
Cheers,
Fashun Guadarrama.
About the Author: Austin-1