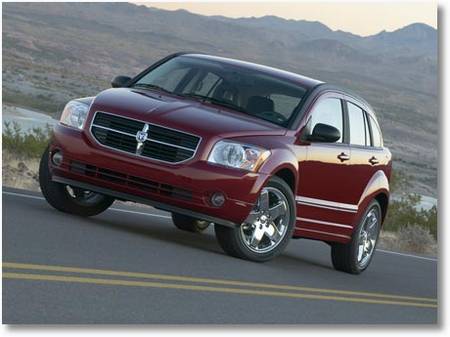 Dodge has come up with something to replace the old Neon that doesn't quite fit into any certain category, but rather belongs to a field of its own caliber. The 2007 Dodge Caliber comes with several different designs, from wagon and hatchback to the more family-friendly minivan look, making it a versatile vehicle pleasing to more than just a certain crowd.
The Caliber's fuel economy gets you nodding your head, with 28 city miles to its 32 highway miles, and after that you just can't stop. This five-door hatchback/station wagon with its four cylinder engines and four wheel or all wheel drive fits five passengers and room for more at a price just slightly lower than the Neon of 2006. Later in 2007, another version is coming, the SRT4 with a whopping 300 horsepower coming out of its turbocharged engine.
The Caliber has comfortable front seats and some interesting add-ons that make you feel like you're at home. There's actually an air-conditioned area in the glove compartment that keeps your drinks fresh and cold, and stereo speaker that swings down or converts to a sound stage for tailgates.
The SE has a 1.8 liter engine and five-speed manual transmission. Or you can take the option of the 2.0 liter engine and automatic transmission. Cloth seats, four-speaker stereo, MP3 holder, and all season hub capped wheels make this cheapest option a great one.
SXT also has a 1.8 liter five-speed manual and expands the list of features by quite a bit. Chill zone in the glove compartment, all season wheels, 60/40 split rear seat, a removeable lamp. Options for leather seating, Bluetooth, sunroof, fog lamps, and more.
R/T comes with the standard 2.4 liter engine and all-wheel drive. Cruis control, leather steering wheel, all-season tires and 18 inch chrome wheels.
Safety features that come without paying more are multi-stage front airbags, inflatable knee drive blocker, and side curtain airbags. Optionally, you can add an electronic stability program and traction control.
Cheers,
Fashun Guadarrama.
About the Author: Austin-1