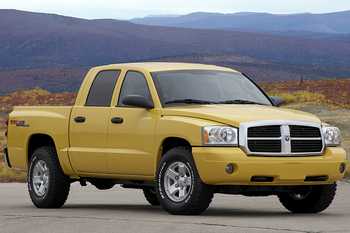 Here's the 2007 Dodge Dakota, a mid sized truck that holds its own on the road and is very competent when it comes to driving. This Dodge creation has a pretty good record and performs well in most categories from top to bottom. Things like the cabin, the configurations, and just quality total don't measure up to the same on cars from Nissan and Toyota.
The engines offered for the Dodge Dakota are powerful and durable. You can get four wheel drive either part of the time or all of the time, and this nimble truck can tow, having a large capacity for weight. It handles well, making it a good option for people who want a truck but aren't used to too much power. On the interior, the plastic that decorates it is cheap and feeble, and there is no trim level that comes with a longer bed for storage. For all of that, the Dodge Dakota is priced pretty high for a vehicle like itself.
In 2007 the Dodge Dakota comes out with several new things, including an option for remote start and stain resistant fabric for the seats. All trim levels of the Dodge Dakota come standard with a dual-position tailgate, and flex fuel capability has been added to its 4.7 liter V8 engine. That capability makes it possible for this truck to use either gasoline or an E85 mix of 85% ethanol.
It comes with two body styles, being the Club Cab, which is extended, and the Quad Cab, which is more roomy on the interior. It also comes in three trim levels, the ST, SLT, and Laramie.
Cheers,
Fashun Guadarrama.
About the Author: Austin-1