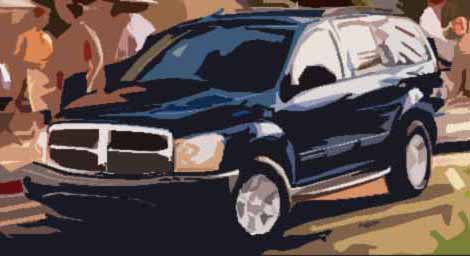 The 2007 Dodge Durango has a little something and is doing good in terms of competition against other vehicles in its class. It is what is considered a full sized SUV, on the larger end, and is good for somebody who needs both to seat a family and have the utility option of great towing capability. It comes with a hot engine, packing power at the V8 level, and it is very roomy on the inside which does well for family members and long trips.
One of its unique perks is the smooth way it rides as compared to other SUVs, as though it is a car. It does well off the road, and so would be a good option for anybody who is frequently in the country or camping with the family. With a roaring V8 engine, this vehicle is almost prescient in its controls and the back has plenty of room to fit anything you want to lug around. The mileage isn't so great, though, and and neither are the fit and finish. In the second row you might want to leave it to only the kids, as there's not enough legroom for an adult to sit comfortably. The storage space is wide, but doesn't fit as much as it should.
In the 2007 model year, the Dodge Durango makes a lot of additions such as side air bags that now come standard in all levels. There are updated moldings for the body side that come in the levels SXT and SLT, and Limited. Limited also comes with a leather wrapped console. Coming standard are also
tire pressure monitoring system
rear air conditioning
new grille, fenders, hood, headlamps
heated side mirrors
front and rear fascias all new
quad bucket seats
Cheers,
Fashun Guadarrama.
About the Author: Austin-1