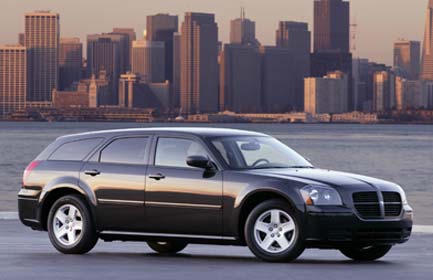 The 2007 Dodge Magnum is a very useful wagon, and the extent of this will surprise you in a car of its type. Not only that, but it performs well, is extremely comfortable, and just generally has a handsome body design. It is the kind of wagon that breaks through all preconceived notions of what a wagon should be, making its own mark in its own individual way.
It has a design for the exterior that is unique in make and you won't find it on other wagons of its class or any other. In the SRT8 trim level of this car, the acceleration slams forward, and the inside of the vehicle is spacious and neat. There is also the option for all wheel drive. Some of the materials that make up the interior are cheap, but they are few and far between and not much to worry about. If you get the regular V6 engine, you aren't going to be looking at much in terms of acceleration.
Only a couple of new things have been done to the 2007 Dodge Magnum since the last model year, including the R/T Performance Group package, which brings with it
sport tuned suspension
engine upgrades
ten more horses of horsepower
Cheers,
Fashun Guadarrama.
About the Author: Austin-1