2007 Dodge Magnum R/T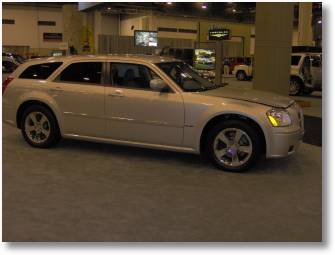 I had to stop and smile at the 2007 Dodge Magnum displayed at the Houston Auto Show this year. But as I enjoyed reminiscing about my childhood vacations to Grandma's house in our family's station wagon, I started really checking out the Magnum and found that it is only a distant cousin of the wagon in my memories.
The 2007 Dodge Magnum is designed with a lot of style. It is built on the large sedan blueprints with an extended wheelbase to make it a wagon. The front end grill resembles a truck grill, and the tapered roofline and sporty wheels can compete effectively with its sedan, SUV, and wagon contemporaries on the road today.
You can choose from four different models for the 2007 Dodge lineup:
Magnum SE
Magnum SXT
Magnum R/T
Magnum SRT8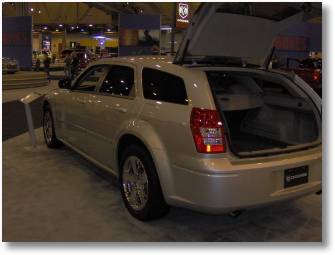 The Magnum SE is of course the standard edition with a 190-horsepower 2.7-liter 24-valve V6 engine and a four-speed automatic transmission. The starting MSRP for this model is $23,290. It's a great basic car—perfect if you don't need a lot of power and acceleration abilities. If you're merging onto Houston freeways however, you might want to consider one of the bigger engines available in the Magnum SXT or Magnum R/T.
The 2007 Dodge Magnum SXT is equipped with a 250-horsepower 3.5-liter high-output 24-valve V6 engine. You'll also get upgraded to 17-inch machined aluminum wheels. You can also get all-wheel drive on the SXT if you deal with serious weather conditions in your area. Starting MSRP for this model is $27.880.
The Magnum R/T boasts an impressive lineup of features, including:
a 340-horsepower 5.7-liter HEMI® engine
Electronic stability system that includes all-speed traction control and brake assist
18-inch machined aluminum wheels
Premium leather-trimmed seats
a 276-watt Boston Acoustics® sound system with six speakers
Expect to pay $32,065 and up for a 2007 Magnum R/T.
The 2007 Dodge Magnum SRT8 has all of the Magnum R/T features with the addition of special performance enhancements. With this impressive SUV rival, you'll enjoy:
6.1-liter SRT HEMI® V8 engine 425 horsepower, 420 lb-ft of torque
20-inch forged aluminum wheels
Goodyear F1 high-performance tires
SRT Unique Calibration Electronic Stability Program
Starting MSRP for the 2007 Dodge Magnum SRT8 is $38,345. That's $15,000 more than the base price of a Magnum SE, so make sure that you really want and need all of the extra power and bells-n-whistles you'll be paying so much more for.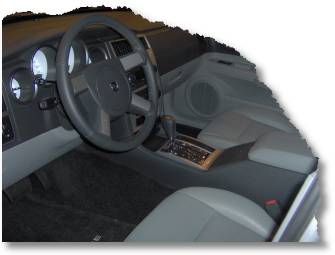 About the Author: Austin-1