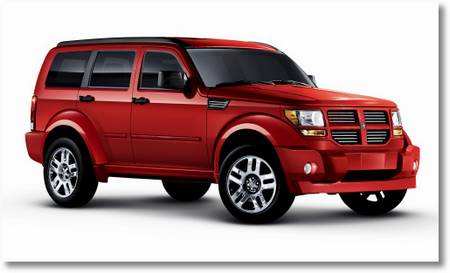 The 2007 Dodge Nitro has been in the works since 2004, when the full sized SUV Durango was being redesigned and plans began to be laid for a 22-inch shorter Nitro. Dodge went for a unique look, which brought about the result of a squarish sort of vehicle that doesn't quite look like other SUVs., but looks more as if it is somewhere between a sports utility vehicle and a truck. It looks and feels bigger than it actually is, with lots of space inside, especially in the front area, allowing for significant amounts of comfort. It's got plenty of space for storage, with sits that fold down flat with a touch and a back floor that slides out, making it easier to load heavier things.
Able to hold up to 400 pounds of cargo, the Dodge Nitro packs a V6 engine, either 3.7 or 4.0 liter, with 50 more horsepower than ever before. The choice is between two wheel or four wheel drive, and both are options on the Nitro. Covered in a special material that blocks outside noise, the inside of the vehicle becomes as quiet as an empty house. It's like you aren't even driving at all. Not to mention that upholstery is stain repellant, so you can take your family out in it without worrying–although it's too bad it doesn't block inside noise as well.
The Nitro comes in three models, with a starting price around twenty thousand dollars. The first model is the SXT, which packs a 210 horsepower 3.7 liter V6 engine and the option of either a four or six speed automatic transmission. With remote entry, air conditioning, cloth upholstery, a tilt steering column, a six CD stereo system, traction control, and fender flares, this base model is well enough equipped.
The next model up is the SLT. In addition to the SXT's features, it includes stain-resistant seats, a six-way adjustable driver's seat, leather wheel with audio controls, tie down rails, cruise control, a compass, heated mirrors, tinted windows, and 17-inch wheels.
Finally, there's the R/T, which ups the ante with a 4.0 liter V6 with 260-hp. Its sports suspension and 20 inch wheels make it a vehicle to be reckoned with. It comes with everything the other cars have, along with Sirius Satellite Radio.
What are the options for the Dodge Nitro? Well, you can add on a power sunroof, an engine block heater, fog lamps, and a trailer package. The last two models have the option for a navigation system, leather upholstery, keyless ignition, a hands-free phone, among others. The Nitro is a vehicle with basically all the necessary components, and a look all its own.
Cheers,
Fashun Guadarrama.
About the Author: Austin-1