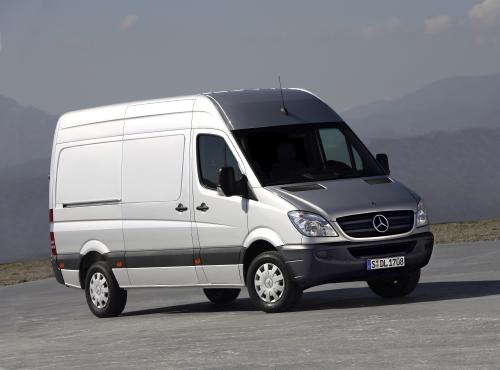 The 2007 Dodge Sprinter brings full sized vans into the contemporary age with a special take on design and style that bring the whole category up to date in an area they have been lagging in for a long, long time. It does cost more than other full size vans tend to cost, and it also packs a lot less power, but it still tops the level when it comes to room on the interior, the ability to take curvy roads and turns with ease, and fuel efficiency.
There are several big body style options available, and they are so big that you can pretty much walk around inside of them (though you should keep buckled). For a car of its size, it's amazing how well it does on the fuel economy. It maneuvers well and is built like a Mercedes. On the other hand, it costs a lot more than its rivals, so you have measure up what the pros and cons are. It's also true that, although there are two engine choice, neither of them tows or goes like a V8.
Everything is new in the 2007 model year for the Dodge Sprinter, including:
turbodiesel V6 engine
3.5 liter gas V6
horsepower good for the highway
changes on the exterior
Mercedes-Benz switch gear
bigger rear windows
tilt and telescope steering column
The van has a whole has been blown up like a balloon as well. It is both longer and wider all around, and it is possible to choose an option for a higher roof so that you can actually stand up inside it, good for storing things that don't fit into a smaller car's shape.
Cheers,
Fashun Guadarrama.
About the Author: Austin-1