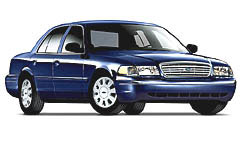 The 2007 Ford Crown Victoria reaches back in time for its inspiration, and you can tell just by looking at the name that it has something old and classy about it. Spacious and equipped with a powerful V8 engine, this vehicle is a great bargain for people trying to make ends meet but also wanting to get a car with something to offer them. If you have the ability to make a better choice, both financially and as somebody who demands more from their car, then the stylings and nimbleness of its rivals will appeal to you far more.
The Ford Crown Victoria has a great price, making it a great option for anyone on a budget, and for a smaller car it has plenty of room, fitting six passengers, something that rivals some small SUVs. It comes with rear wheel drive and a V8 engine, and performed well in government crash tests. On top of all that, it is a decent drive, comfortable but not all too impressive. The design of the interior is old fashioned and probably won't appeal to many modern buyers, and the materials that make it up are badly chosen. With its lack of newer technology, it has shoddy handling.
In the 2007 model year, the Ford Crown Victoria has been altered quite a bit. Some of the additions include
CD player
keyless entry
alarm system
daytime running lamps
Premium Sport Handling package, which comes with seventeen inch wheels and a dual exhaust system
leather interior
warranty increase for powertrain up to five years or sixty thousand miles
For this model year, the LX Sport version of the model was dropped. The features that were previously unique to it are still around though, but instead of coming standard to another trim level, they have been put into the Premium Sport Handling package, which can be purchased as an option.
Cheers,
Fashun Guadarrama.
About the Author: Austin-1