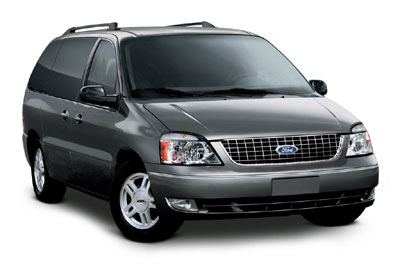 The 2007 Ford Freestar might look like a good option just if you stare at it, but there's more under the surface and in the driving that should push to choose, well, any other minivan in its price range. It is well designed and fares well on safety car crash tests, but there is much more to a family vehicle than that. For one, it fails to meet up to its exterior stylings on the interior, which is sub par. Another thing is the driving experience, which involves slow acceleration and bad handling, making this a hard minivan to get used to, or to want to get used to. There's no option for a navigation system, and this minivan doesn't allow much messing with its seats to create more room.Not to mention, the fuel economy is down the toilet.
The 2007 Ford Freestar comes with a few additions in the new model year. It now has things like stability control and brake assist, as well as a third row bench that flips over to make room for tail gating.
The 2007 Ford Freestar offers its model in three trim levels, the SE, which comes with
sixteen inch steel wheels

tinted glass

air conditioning

cruise control

keyless entry
And the SEL adds
alloy wheels

twi zone air conditioning

second row captain chairs

compass and temperature display
Whereas the Freestar Limited comes with the following
leather upholstery

power sliding doors

puddle lamps

automatic climate control

trip computer
The 2007 Ford Freestar also comes with several options that you can add for an extra addition to the price of the vehicle. On the entertainment side, you can add a DVD entertainment system for the rear seats. For comfort, there are heated front seats, although this is only possible in the Limited trim level. For more useful options, you have seventeen inch wheels and a power lift gate.
Cheers,
Fashun Guadarrama.
About the Author: Austin-1