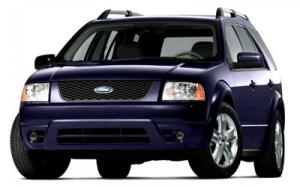 If you don't want a van, but still need a vehicle that you can actually use to fit in several people and some cargo to boot, then the Ford Freestyle is the sports utility vehicle that you are looking for. Able to fit up to seven passengers, this is a veritable family car. Still, if you're someone who puts importance on things like engine power, it might not impress you to much. The V6 engine it's equipped with lacks power, and if you look at it next to other SUVs in its class you'll find that it's lagging far behind in that area.
The cabin was well crafted to accommodate large amounts of people and cargo, and you can fit plenty of groceries in the hatch of this SUV. There's no problem of running out of room here. For those who think it's very important to have the safest vehicle, this SUV has lots of safety features, more than the standard. It also does well in the area of handling, and for a car of its size is very balanced.
Despite the amount of safety features though, one very important one, the electronic stability control system, is not an option for this vehicle. This seems to be a problem with models made by Ford. Ford just hasn't caught up in the area. The engine is okay driving on city roads, but once you get onto the highway, the lack of power is really felt and it doesn't make the cut. The interior is mostly well designed, although some of the plastics and fabrics are sub par.
The 2007 Ford Freestyle is full of changes in the new model year. Added are
seat mounted side air bags

full length side curtain air bags

alarm system

heated mirrors
As well of those add ons, some more things have been changed up. The packages of options and the model's trim levels have been mixed up and the SE trim level has been dropped entirely. If you go for the Freestyle Limited, you can get eighteen inch wheels for no extra. The warranty, too, has been extended to five years or sixty thousand miles.
Cheers,
Fashun Guadarrama.
About the Author: Austin-1