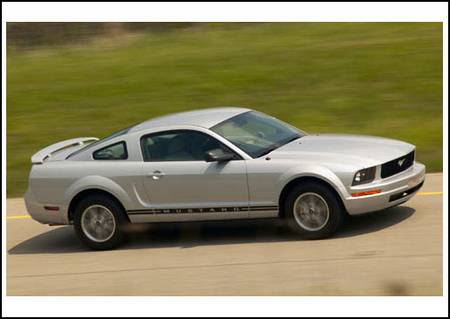 Everybody knows the Ford Mustang. It has been the standard for the car everybody wants since Ford released the very first version of it years ago. Even those from that first line of Mustang stand the test of time as beautiful, well made cars that cause envy and a need for speed regardless of the color they come in, be it burnt orange or neon green. The Mustang is just the kind of car that has some kind of supernatural appeal, and the 2007 model is no different. The look this year is differen from those that came previously, and the headlights looking out of this unique car make it look like it has an attitude, which is just what it does have. Since its first release in 1964, the Ford Mustang has stood heads above its competitors, and now that those competitors are gone and the Mustang remains, it's obvious why.
The 2007 Mustang comes in either convertible or coupe, and its nice body hangs onto the curves in just the right way and gives a thrill when you accelerate. It's a blast to take out on empty roads, though when it hits a bit of rough terrain it starts to bounce, and you'll want to buy snow tires if you live in an area where the winters get heavy. Its interior is individual in that, instead of following the more futuristic make-everything-silver trends of the day, it looks a little like something out of the 60s, staying true to its origins.
The V6 Deluxe Coupe is the cheapest model, at just over $20k, and it comes with a set of 16-inch wheels hooked up with chrome spinners, as well as a driver's seat that's adjustable six different ways, and a six disc CD changer, just to rub the number in a little more. The V6 Deluxe and Premium Convertible both come with everything that the coupe doe, with the addition of a fold-back top and split-folding seats in the back.
The Mustang GTs get it going, with a V8 engine and 300 horsepower, and the Coupe comes with the same features as above, as well as in-grille fog lamps, halogen headlamps, a rear spoiler, performance suspension and tires, and 17 inch wheels. The premium coupe slap on some leather sports seats, and the convertible comes with all of the above.
The real story is in the Mustang Shelby GT500, though, with a brain numbing 500 horsepower in its 5.4 liter V8 engine. It's practically a race car in this form, and its sleek look sand the way it moves just exude a feeling of power. It guzzles gas, though, and there's even a special tax added on because of this.
Cheers,
Fashun Guadarrama.
About the Author: Austin-1