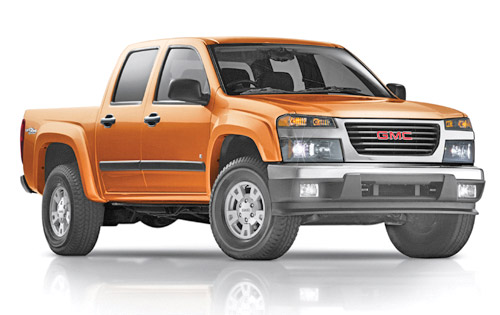 Judging by its looks alone, the 2007 GMC Canyon is quite a catch. Its body is nicely formed and its exterior and interior designed to be attractive. If you are looking for a truck to admire, then the GMC Canyon won't let you down. However, for anybody who demands more out of their vehicle, the GMC Canyon will turn out to be a disappointment by far. Unusual for a truck of its size, it has little room in its cab to fit passengers in, and it also lacks in the area of performance.
Despite all this, the GMC Canyon is one of the tops in handling, and comports itself well whether you're on the highway or driving through the mud. For off the road competence, it is a very good pick. It is also pretty good on safety, with crash test results among the highest. Still, its build is flimsy and the materials used are used for their cheapness rather than their durability and style. Lined up against the other trucks in its class, the engine that the GMC Canyon is equipped with is almost powerless, and beyond that, the truck has little towing capability.
The GMC Canyon makes several additions in the 2007 model year, including
tire pressure monitoring system
better shifting
new wheel styles
There have also been a rash of replacements and improvements, from the 2.9 liter four cylinder engine with 185 horsepower with variable valve timing that takes the place of the truck's old engine, the 2.8 liter four cylinder with 242 horsepower. Why the loss of power? You'd have to ask the GMC makers that. Still, the five cylinder engine has been shaped up, and the truck is all around meatier for 2007.
Cheers,
Fashun Guadarrama.
About the Author: Austin-1