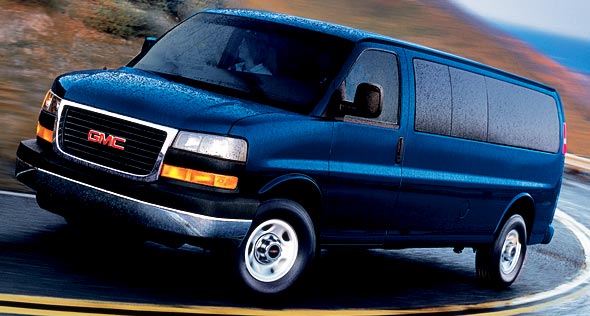 The squarish features of the 2007 GMC Savana set it apart in style, although not necessarily in a good way, I would say. You have to wonder how it managed to get the same Savana, having nothing of the off road ability or natural sense that you would expect with such a wild name. Perhaps car manufacturers are just picking these names out of a hat. I wouldn't wonder. Still, it is more modern than many of its rivals, and along with the Chevrolet Express it is probably one of the best full sized vans out there on the market today, and one of the only ones actually moving into the future.
This full sized van is equipped with the excellent asset of a strengthened powertain. For no hassle rides, there are passenger doors on both of its sides so that there's none of that bothersome trouble with getting over one seat to the other. There are several changes that you can make and options you can choose for both wheel base and passenger seating, making these a very personalized style of van. The option for all wheel drive is also available, and would definitely be a good one to take advantage of.
Still, the plastics used to make up the cabin are of poor quality and show it, too. Though there was much more car put into the exterior, once you climb inside it's obvious that that was all for show. The styling of the interior is boring and gets dull to look at. Also, stability control, a very necessary safety feature, only comes with the one ton trim level of the GMC Savana.
There are a couple of changes to this full sized van for the 2007 model year, and some are good and others bad. One of the more questionable decisions is the loss of the 2500 3/4 ton trim level of the GMC Canyon, which was going strong until the last model year. The V6 engine is nowhere to be seen, but it has been replaced by the much more powerful 5.3 liter V8.
Cheers,
Fashun Guadarrama.
About the Author: Austin-1