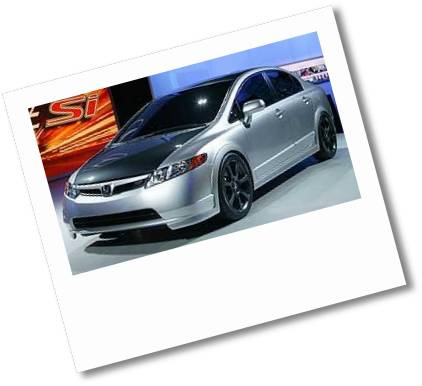 The Honda Civic has long been a staple in the small car section of the auto industry. It's the sort of car that people compare all other cars too, because it has such an exceptional status and history. The body design may not appeal to some people, but the overall range of positive aspects about the 2007 Honda Civic make it one of the best choices for someone who is looking for a small car. Comfortable, safe, and easy to personalize, this little thing isn't just a car, it's your car.
There is a long line of engines that you can choose from for your 2007 Honda Civic, and they are all excellent both in performance and in fuel economy, so you can't go wrong. It's a smaller car, but still manages to have a spacious interior, with comfortable seats and materials. It fared well on all of the safety car crash tests, and comes with plenty of features to make your drive less dangerous. With two body styles, the sedan and the coupe, the Honda Civic is a cheap, sturdy buy.
It is true that, while its engines perform well and it has excellent handling, the Honda Civic doesn't do so well when it comes to accelerating. Although it can keep up a respectable speed once it gets started, it takes it longer than usual to get there. There are also some question about the decision of the design for the gauge cluster.
Both the sedan and coupe can be chosen from the three trim levels that the 2007 Honda Civic comes with. These are the DX, a very cheap budget car that doesn't come with a lot of features, although you can look forward to
a tilt and telescope wheel
power windows
The LX is in the middle of the road and makes a better choice for someone who wants more options on their car. It comes standard with
sixteen inch wheels
keyless entry
power accessories
CD/MP3 player
cruise control
The EX, the trim level on the higher end of the model, is still relentlessly cheap and offers several more excellent features
alloy wheels
moonroof
better sound system
Cheers,
Fashun Guadarrama.
About the Author: Austin-1