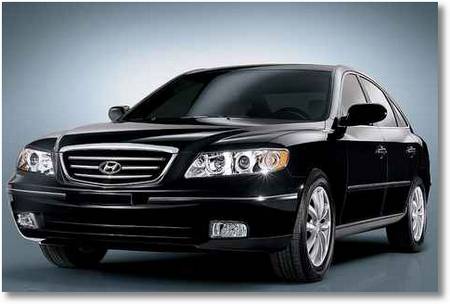 Just by looking at its price, you might have lower expectations of a car like the 2007 Hyundai Azera, but your expectations would not be justified. Why is that? Not only is the Hyundai Azera a fantastic bargain, especially compared to other cars in its class, but it offers more than other cars for a lot less money. Why pay more for less, when you can pay less for more? The 2007 Hyundai Azera is a top of the line car that is showing up in a lower class of car to give people on a budget a chance to get a truly great vehicle.
Its well constructed all throughout, with a strong body and good materials used all around. The interior is good looking, using premium materials both for the features, upholstery, plastics, etc. It drives silently and competently, and with little interference. At the price it is, it's hard to expect so much from a car, but there's more. The warranty is much longer than usual for cars of its class, or cars period, so you might not even have to worry about purchasing an extended warranty.
Still, its 3.8 liter V6 engine doesn't deliver when it comes to the gas tank. With poor fuel efficiency, the Azera doesn't live up to all of the standards for a smaller car. It's not particularly expensive to fill up, but it could be a lot cheaper with work. The seats might not work for anybody moderately tall, being structured a bit too high, and while it handles decently, it does so weakly. A navigation system, such a necessary feature this days, isn't offered with the Hyundai Azera.
Cheers,
Fashun Guadarrama.
About the Author: Austin-1